Kinshi Masamune was founded in 1781 in the ancient capitol of Kyoto.
Eventually moving the brewing facilities to the Fushimi district for the favorable production conditions that exist there, we have been producing fine sake for more than 200 years and will continue to build upon our established traditions and techniques to bring the finest sake to generations to come.
Corporate Mission
Unfaltering determination to making people happy
Matsuya Kyubei, who founded Kinshi Masamune in 1781 to the south of Kyoto's imperial palace, ardently wished for one thing – that his sake could play a role in bringing people together, enhancing their lives, and furthering their happiness.
Consistently dedicated to this founding spirit, Kinshi Masamune is striving to become a global contributor to society.
Management Principles
1.Contribute to people's happiness
2.Implement customer-oriented marketing
3.Enhance the culture and gastronomic identity of Kyoto
The Brewers who Sustain Kinshi Masamune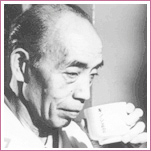 The late Iwasaki Kumajiro (1915 – 1995): Master Brewer
In 1983, Mr. Iwasaki received the Minister's Award (for contemporary master craftsmen) from the Ministry of Health, Labour and Welfare. He served for many years as the chairman of the brewers union in Fushimi, Kyoto.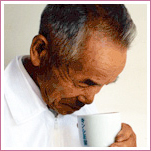 Konishi Shoji (1931 – ): Master Brewer
Mr. Konishi has taken over for Mr. Kumajiro, working as master brewer since 1988. He received the Gold Prize in 1999 and 2001 at the Annual Japan Sake Awards held by the National Research Institute of Brewing.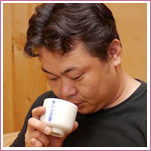 Himeji Tomohiro(1975 – ): Master Brewer
Mr. Himeji joined Kinshi Masamune as a fulltime chief sake brewer in 2011. He is very particular about the process of producing koji (aspergillus oryzae fungus) in order to preserve the traditions of Kinshi Masamune's Kyoto-brewed sake. His efforts earned him the "Gold Award" at the 2014 Junmaishu sake competition.
Corporate Overview
Company name
Kinshi Masamune Co., Ltd.
Incorporated in
1936
Founded in
1781
Business
Brewing and sales of alcoholic beverages
Capital
40,000,000 yen
President
Yasushi Horino
Location

Head Office


554-1 Kamikoya-cho Fushimi-ku, Kyoto 612-8318 Japan
Tel: 075-611-5201  Fax: 075-611-0080


Kyoto Branch


554-1 Kamikoya-cho Fushimi-ku, Kyoto 612-8318 Japan
Tel: 075-632-8137  Fax: 075-611-3191


Tokyo Branch


1-9-12 Shintomi, Chuo-ku, Tokyo 104-0041 Japan
Environmental Measures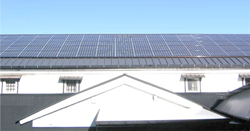 Solar panels installed on the roof of the Head Office sake warehouse
As part of our measures to contribute to the environment, we have taken the initiative in our industry to use a clean energy solar power system which includes installing solar panels on the roof of the sake warehouse at our Head Office. This fusion of traditional architecture and leading technology will surely be seen as a landmark in the sake producing district of Fushimi in Kyoto.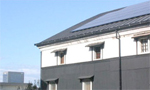 The photo at the bottom left of the screen shows the same solar panels installed at the headquarters of Kyocera.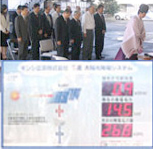 A digital display on the exterior wall at our Head Office indicates present solar radiation intensity and the amount of electricity being produced.