The former residence of the Horino family and roots of Kyoto-brewed sake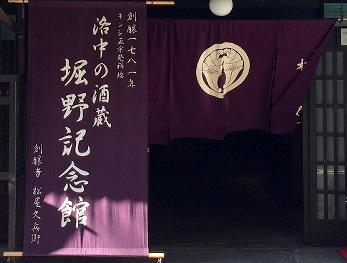 Matsuya Kyubei, the founder of Kinshi Masamune, established a sake brewery in Kyoto in 1781. The brewery facilities were moved to the Fushimi district of Kyoto in 1880, but the family residence and sake brewing tools are cultural resources that can still be seen in their original location in central Kyoto today. The name Horino Memorial Museum comes from the Horino branch of the Matsuya family.
---
A time capsule representing over 250 years from the 17th century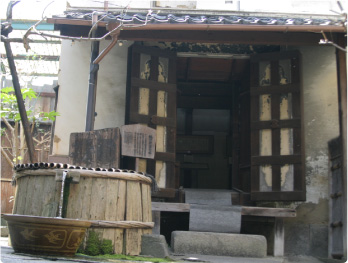 The main building is 26 meters wide and 30 meters deep, and it is located in the southern part of the spacious grounds. The windows and latticework are characteristic of machiya (traditional home) construction at that time. The corridor on the north side serves to connect the garden, an earthen warehouse and the main house. At the far end of the grounds beginning in the south are the Bunko warehouse (with an inscription indicating completion in 1820), the sake warehouse, the northern warehouse and three earthen warehouses. These structures give us a historical glimpse of machiya architecture and culture.